ADT Review
Still the Best in 2016?
Updated: 06/29/2016
Mistakes can happen but these cannot be ignored or taken for granted when it comes to safety. The danger and risk involved in the case of household safety and overall life itself is high. It is therefore advisable for home owners to use reliable mechanical devices for trustworthy protection.
ADT home security services offer a variety of house alarm systems that can make their lives easier, safe and secure. They started out as a telegraph company in 1874 and has been around ever since. They undoubtedly have the largest market share in the United States and also maintains a strong presence overseas as well.
They are known as one of America's largest top rated wireless security system companies, but that doesn't mean they're the best. We have heard extremely mixed reviews depending on your needs and your local authorized installation company.
Let's Review Some of the Key Features
PROS

:
HIGH QUALITY ONLINE PRESENCE
On the Pulse® Web portal, you can check and monitor or manage your household at any time. One rather cool feature is that you are able to view and send video or pictures to and from your house. Besides that, you can adjust just about anything in your home. It also helps that the navigation is clean and simple. There is a summary tab that shows you a quick run down of everything in your house at a glance. Then you may dig deeper by looking at the other tabs like history, alerts, automation's, and schedules, etc.
Protection designed to deny unauthorized persons access to property or valuables once alarm is set. Will also alert and/or warn owner and first responders of impending or immediate danger through alarms which may be silent and/or audible.
More than 400 people die each year from accidental carbon monoxide poisoning, and because it's odorless and colorless it is impossible to pick up without a detector. The equipment detects levels of carbon monoxide gas and sounds an alarm while alerting a Customer Monitoring Center to the threat.
POWER SUPPLY AND BATTERY BACKUP
In case of a power outage, ADT home security packages provide power to the system and an extra high-capacity battery.
With Pulse®, you are able to micro-manage your service with a nifty little touch-screen device that has access to everything you would need to control your safety. The touch screen has many features including; send an emergency alarm, arm your system, view your live camera streams, control your lighting, read the news, check out photos, view traffic, and the list goes on. However, the touch screen isn't available with all plans, you will need to check to make sure the plan you want offers the touch-screen if you wish to use the device.
Pulse is available without either Home Control or Video Control, but you may choose to have either as part of your final package. ADT Pulse is meant to provide you with your ideal level of control and safety that make yourself and your family feel safe and protected.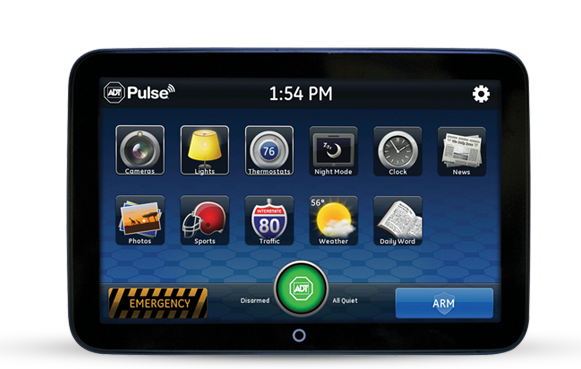 Home Control. This control gives you the ability to control your lights, doors, and other energy hungry devices all from remote access. The Pulse App certainly can make home automation a lot easier.
Video Control. Check the safety of your house in real-time by accessing the Video Control whenever you please. A live stream of your house can be displayed at any time at your convenience. They will also keep a record of your video stream in the event of an emergency.
ADT Pulse App Review
It has amazing features which always you to have constant surveillance of your home anytime and anywhere. You can watch Real-time videos of your premises with either static or Pan-Tilt-Zoom and Digital Zoom control functionality camera and also lock/unlock and arm/disarm.
The Pulse App is a new feature which allows you to view all Video and Alarm History through your ADT Pulse Portal, Use your voice to control your service from any where you might be.
Pulse Garage Controller
This is a feature recently introduced, which allows you to control your garage door from virtually anywhere and notifies you of activities.
Camera Overview
The iCamera, which is ADT's surveillance camera is a fairly decent camera, it has 12 infrared LED's which is very helpful in low light area's. The camera signal itself can be set to wireless but however it does require a connection to a power source.
While Pulse does not actively support outdoor motion detectors and video camera's they do have one outdoor surveillance camera option. The outdoor surveillance camera is the OC810. It is enabled with night vision and has a powerful microprocessor. It can display live streaming video to your computer or smartphone. The outdoor camera still requires a power source.
Pulse Cost and Pricing
If you're a smartphone or avid tablet user you will want the seamless operation you get with Pulse. With just a touch of a button, you can reboot your whole system and change any setting instantly.
For about $50/month this cutting-edge portal and app feature expands your ADT security system a ton. It gives you the ability to manage and manipulate your system into being exactly what you want. You will need to call to get an exact quote on this.
CONS

:
The installation charge for Pulse packages start at $199, as compared to the $99 standard installation fee for non-Pulse packages. But as of now you can pay $99 for the Installation of the Pulse Package. This offer expire 07/072016
LIMITED VIDEO SURVEILLANCE CAPABILTY
To get two cameras, you'll need to buy the Premier package, which includes a full range of sensors and equipment. If any alert comes through the system, they send you an alert. You can then log in to your account and monitor the alert and take the appropriate actions. Unfortunately, this company's full service packages are much more expensive than other companies, and you only get two cameras to monitor your residence. If you wish to have more indoor or outdoor surveillance cameras, you'll have to buy those separately.
When you contact them, the company will send a local technician to your place. The agent will go through your house, pinpointing any vulnerable areas. The biggest advantage to this service is a custom service plan based on your home's layout and your protection goals. The technician will recommend devices and sensors specifically for you. Their services may be more expensive than other companies, but its monitoring systems are customized for your layout and concerns.
SNEAKY MONEY BACK GUARANTEE TACTIC
ADT security offers a 60-day money back guarantee but it is not a return policy. The 60-day money back guarantee basically states that they will refund your purchase amount should you have an equipment or technology issue that they cannot resolve. On the opposite spectrum, FrontPoint offers a no questions asked 30-day money back guarantee.
Although they lack the do-it-yourself installation that some customers prefer, which can help to reduce initial setup cost. Instead, providers like FrontPoint offer the full do-it-yourself installation tutorial.
ADT Customer Service Reviews and Complaints
They continue to suffer from a large number of complaints and negative reviews. The majority concern are pushy marketers, lack of transparency, and strict contract enforcement policies. They have an usually high number of BBB complaints. Several states have sued them for using deceptive sales tactics.
They lease their equipment for a monthly fee. This is extremely risky because in case you or you kids happen to vandalize the equipment, you will have to pay for damages. On the other hand providers such as Frontpoint sell you the equipment along with the monitoring package. While most providers automatically offer a one-year, two-year, or lifetime equipment warranty to back up their products, they actually charge extra for an extended warranty. The pricing for this "Quality Service Plan" can be quite tricky and is not provided on the website. You will have to call to get more information on how this cost should be calculated.
Once you install the service, you have automatically became a guardian of your house, monitoring every single movement day and night. We all know this can disrupt our activities, plans and schedules. Some companies such as Frontpoint outsource the monitoring to their main hub which can alleviate the task of having to monitor your home by yourself.
They allow you to get in touch with agents and representatives by telephone, email and live chat. However, if you are a potential customer trying to get answers to your questions, the agents tend to be overly pushy. If you need to have a device repaired, they send a technician to your house so you don't have to worry about disconnecting a camera and mailing it in.
As you an see there are several advantages and disadvantages with this company as they are constantly improving any downside as soon as it is noticed. Although it isn't for everyone and can depend on your local providers, their service provides high-tech and excellent devices with good service options.

Surprisingly, start-up costs are about the national average.
Installation cost:  Standard.  $99.
Activation:  There is no activation fee or other hidden fees. This is usually a large fee associated with most other companies. Other providers may offer 'free installation' but then often charge an activation fee of $99 or more. This is something you should pay attention to when selecting a provider.
Monitoring fee:  There are 3 plans to choose from:
$36.99/mo

.  Basic plan: comes with the essential alarm system.
$44.99/mo.  Includes 2-way voice panel and cell-guard.  You can use mobile control as well.
$49.99+/mo.  Pulse home automation: More starting equipment with ability to add surveillance cameras and other smart features.
ADT Customer Service Reviews:
Well I suppose this review is going to say it all! Their customer service has definitely went downhill over the last few years and everyone seems fine with that. Their customer service support team is extremely rude and not even helpful. I have been a customer with ADT security back since 1992 and never needed to contact them for anything until this month when my alarm started having a annoying communication issue. I called them up and the women that answered was quite rude and even treated me as if I was a moron. A week later they came out to my house and then I get a charge on my account for a $155 installation fee! There was no installation and the guy was here for a couple minutes max. I was never told that I was going to owe anything, If your going to charge your customers crazy fees like this one you should at least make them aware of it before and not just let them wait for the bill. I called them Monday morning again and they were rude for a second time. After being a customer for 23 years I tried to politely explain to them that I was unaware of the charges and I couldn't afford them. She didn't even care and then I explained that I was going to have to cancel my account and she seriously still didn't care. What happened to valuing your customers? I hung up and called right back to try and reach another customer service rep and guess what? they were extremely rude again the exact same way! I couldn't believe it. I have given these guys over $10K throughout the many years and I still had to pay those bogus charges. DON'T give these disrespectful thieves your hard earned money!
Robert
-ADT Services BBB (Better Business Bureau)
Bad Press: Is ADT Still Worth It?